Our Watersheds
Salmon Falls Watershed
Horn Pond
This 227 acre lake lies south of Great East Lake and west of Wilson Lake with a small 1.8 square mile watershed. Horn Pond is fed by both springs and a few small streams, such as Horse Brook. The lake drains into the Salmon Falls River which forms a natural border between Maine and New Hampshire. The water quality of Horn Pond is considered to be good by Maine standards of clarity and nutrient levels and potentially non-supporting by NH standards based on the median nutrient levels. The potential for nuisance algal blooms on Horn Pond is low. Water flushes through Horn Pond 8.2 times/year, much more frequently than the average Maine or New Hampshire lake which flushes 1 to 1.5 times per year.
For more information, check out the Horn Pond Association's website.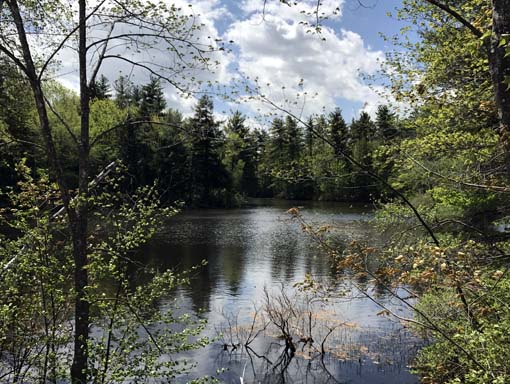 WHAT'S AWWA UP TO ON HORN POND?
Watershed survey to identify potential pollution sources
Youth Conservation Corps erosion control projects and boat launch clean-ups
Hosting events and workshops of interest to lake associations and their members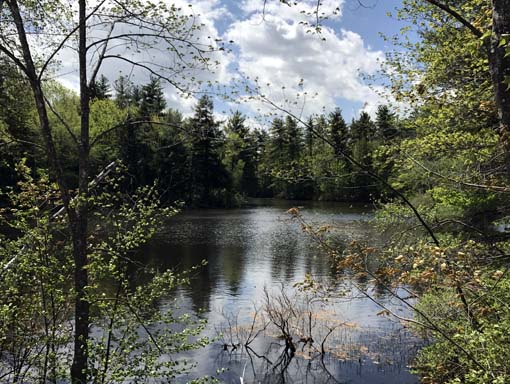 Lake Statistics
Towns: Wakefield, NH, Newfield, ME & Acton, ME
Counties: Carroll-NH & York-ME
Latitude: 43°33'20″N
Longitude: 70°57'18″W
Watershed: Saco River
Elevation: 544 ft
Lake Area: 80.13ha (198.01 acres)
Maximum Depth: 9.1 m (2.77 ft)
Volume: 3,155,000 m3 (833,462,825.2 gallons)
Average Depth: 3.9 m (12.8ft)
Watershed Area: 4,656.3 ha (17.98 square miles)
Shoreline: 6,400 m (3.98mi)
Flushing Rate: 8.2 flushes/year
Aquatic Invasive Plants: None known
Fishery Type: Warmwater/coldwater
Fish Species: Brook trout, rainbow trout, brown trout, smallmouth bass, largemouth bass, chain pickerel, brown bullhead, white perch & bluegill
Sources: NH Department of Environmental Services, NH Fish & Game 
Lake Statistics
Towns: Wakefield, NH, Newfield, ME & Acton, ME
Counties: Carroll-NH & York-ME
Latitude: 43°33'20″N
Longitude: 70°57'18″W
Watershed: Saco River
Elevation: 544 ft
Lake Area: 80.13ha (198.01 acres)
Maximum Depth: 9.1 m (2.77 ft)
Volume: 3,155,000 m3 (833,462,825.2 gallons)
Average Depth: 3.9 m (12.8ft)
Watershed Area: 4,656.3 ha (17.98 square miles)
Shoreline: 6,400 m (3.98mi)
Flushing Rate: 8.2 flushes/year
Aquatic Invasive Plants: None known
Fishery Type: Warmwater/coldwater
Fish Species: Brook trout, rainbow trout, brown trout, smallmouth bass, largemouth bass, chain pickerel, brown bullhead, white perch & bluegill
Sources: NH Department of Environmental Services, NH Fish & Game 
Stay Informed! Sign up for our email list