It's that time of year again! Around this time every year, AWWA and a team of volunteers head into the Acton Elementary School and the Wakefield Paul School for some fun activities. This week we were in the Paul School, and next week we will be testing with Acton! Well water testing is part of our groundwater curriculum for 7th graders. AWWA visits each classroom three times for this module, and the response is always rewarding.
The goal of this program is to have students understand where their drinking water comes from, what may be in it, and ultimately testing water from their homes.This project is about giving the students a chance to be real scientists, and teaches them how to follow scientific procedure.  Amy Arsenault, AWWA's program manager, kicks off the module by giving a presentation to each 7th grade class. This presentation is designed to introduce students to the topic, and to give them information pertaining to groundwater, well water, contamination, and an intro to the upcoming testing day. Students are given a sample bottle to bring home, with instructions on how to properly collect their water.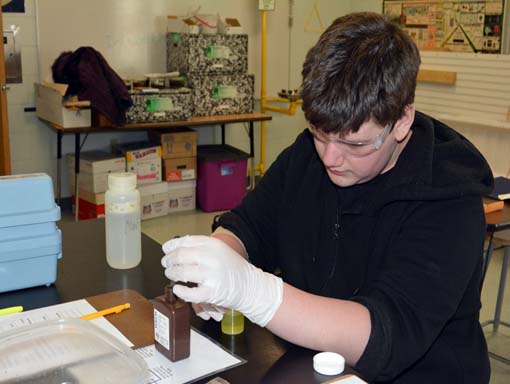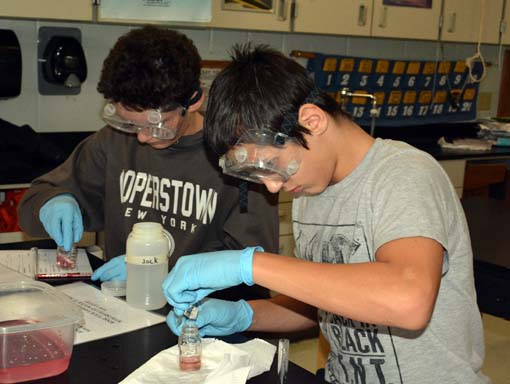 After the initial presentation, students have typically have about a week to bring in their sample. Testing day requires several volunteers that assist the students at each station, guiding them through the procedures. The parameters students are testing are: pH, conductivity, hardness, chloride, iron, nitrates, and a computer station.
AWWA would like to thank our volunteers for assisting with our testing day in Wakefield: Gavin Kearns (Wakefield 7th grade teacher), Cindy Eggleston (retired science teacher), Rosemary Stewart (AWWA board member), Pete Dinger (AWWA board member), Dave Mankus, Patti Connaughton-Burns (MMRG), and all other classroom aides that help make this possible.
Here are descriptions of the parameters the students tested:
Nitrates: They are the primary active ingredient in many fertilizers, and are colorless, odorless and tasteless.
pH: Measure of how acidic your water is. Low pH in water can leach toxic metals from plumbing systems into the water.
Conductivity: A measurement of the ions in a solution. High conductivity levels could be a sign of contamination from sewage or industrial waste.
Chloride: A key component of sodium chloride (salt). Roads can contribute as well as septic systems.
Total Iron: Iron related bacteria are responsible for the orange, rusty water spots often found on flatware. High levels could mean corroding pipes.
Hardness: The amount of dissolved Calcium (Ca) and Magnesium (Mg). Hard water will not "sud" and creates white deposits on pipes and fixtures.