Overview and Guidelines The Acton Wakefield Watersheds Alliance (AWWA) has been awarded a Watershed Assistance Grant from the NH Department of Environmental Services to help households in the Salmon Falls watershed upgrade, repair, or replace failing septic systems—a.k.a. individual sewage disposal systems (ISDS). Septic systems, if not functioning properly, can release nutrients, bacteria, pharmaceuticals and other contaminants into the groundwater.
The NHDES Watershed Assistance Grant Program and AWWA recognize that septic system repairs can be costly and would like to assist homeowners in the Salmon Falls Headwater Lakes watershed in making needed repairs to their systems and leach fields in order to protect groundwater, surface water quality, and the public drinking water supply of Salmon Falls Headwater Lakes.
The funds will be dispersed to eligible households in the form of a grant that will cover up to 60% (not to exceed $4,600 per system) toward the cost for upgrading or repairing a failing septic system to a compliant septic system. Preference will be given to upgrading ISDS deemed high risk (see #5 Eligibility) or in failure (i.e. ISDS that are surface discharging, discharging into surface waters, or having reoccurring sewage backups) and located within 250 feet of Salmon Falls Headwater Lakes.
Eligibility Requirements:
Property must be located within 250 feet of Great East Lake, Lovell Lake, Horn Pond, or Lake Ivanhoe.
Funding is only for residential single-family homes, duplexes, or seasonal camps.
Must have high risk or failing individual sewage disposal system on property. New home construction or expansion is not eligible.
Property cannot be in any stage of sale or foreclosure. Applicant must own property outright or be current on the mortgage, contract for deed, etc. secured on the property.
Type of ISDS, age, and distance to surface water are criteria that will be used to assess risk. Cesspools and holding tanks are considered high risk. ISDS for which no permitting history exists may be considered high risk; i.e. no construction and/or operational permits on file with NHDES.
A review of the Septic System Evaluation and Certification Form (see below) will determine risk level.
Download, fill-out and return both of the following forms to AWWA in order to be considered for the Septic System Cost-Share Program. NOTE: the Evaluation Certification form must be completed by a certified septic inspector.
Septic Cost-Share Application
DOWNLOAD FORM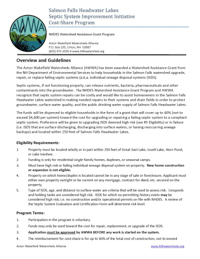 Septic System Evaluation Certification Form
DOWNLOAD FORM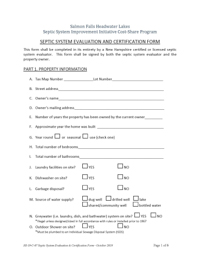 Funding for this project was provided in part by a Watershed Assistance Grant from the NH Department of Environmental Services with Clean Water Act Section 319 funds from the U.S. Environmental Protection Agency.