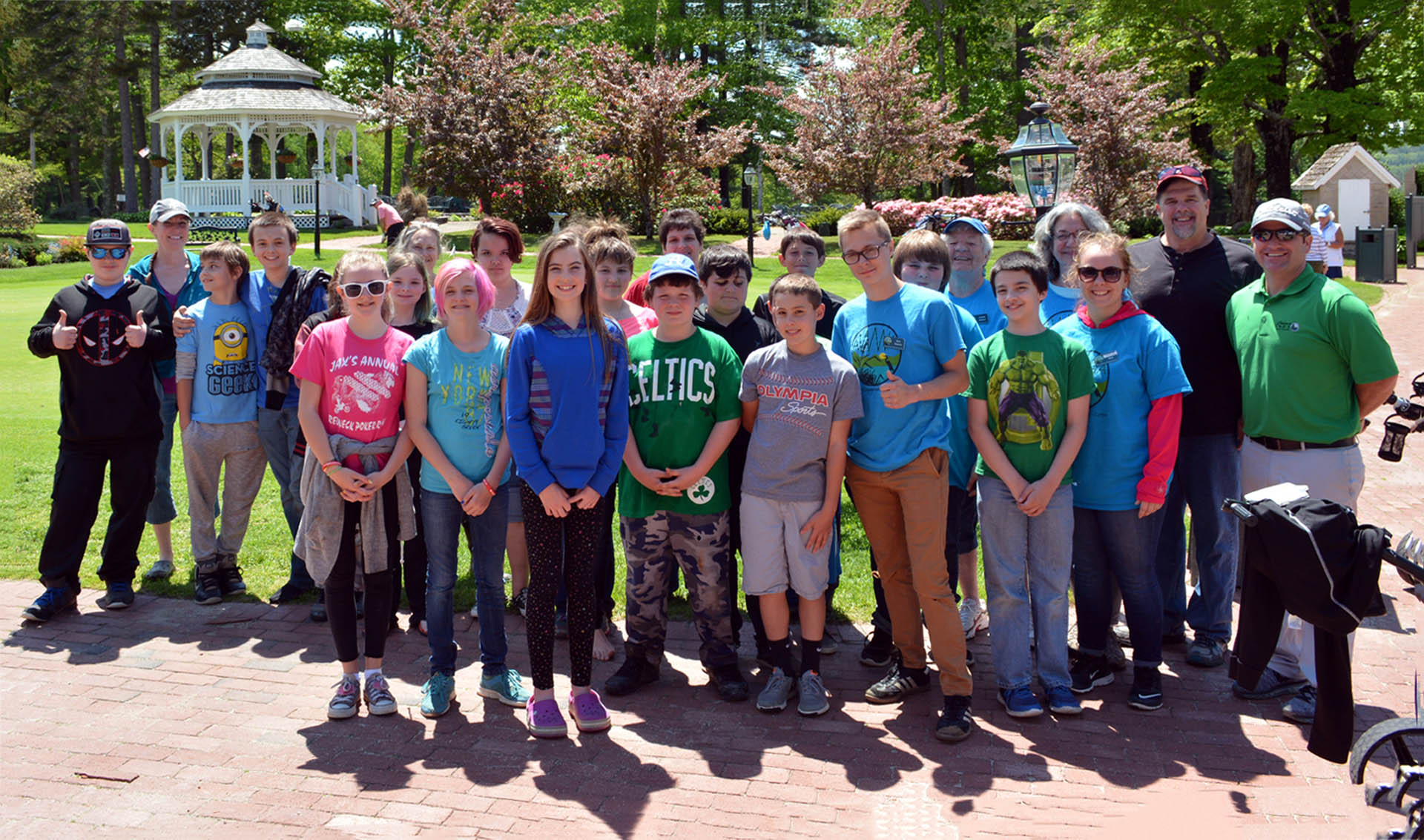 In June we held a collaborative BioBlitz at the Province Lake Golf Course in Parsonsfield, ME and Effingham, NH. Over the course of three days, dozens of students from two local schools, and over 40 community members explored the fields, forests, and ponds of the Province Lake Golf Course to identify and map plant and animal species. Small groups were led by volunteer naturalists and experts to find and identify as many species as possible. The goal of this BioBlitz was to help the Province Lake Golf Course become a certified Audubon International Cooperative Sanctuary. The data collected will help inform decisions about environmentally friendly golf course maintenance strategies. We partnered with The Stewardship Network New England, Province Lake Golf Club, Province Lake Association, and UNH Cooperative Extension to make this BioBlitz happen! Thank you to all — especially our volunteers who found hundreds of species!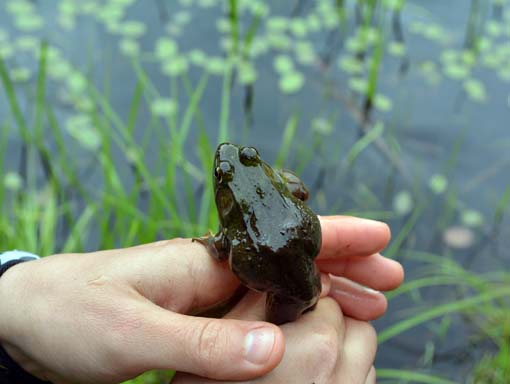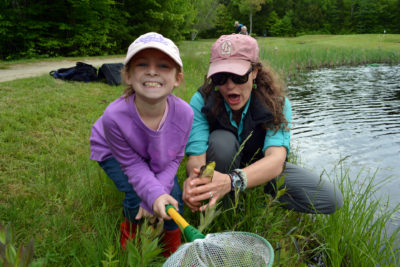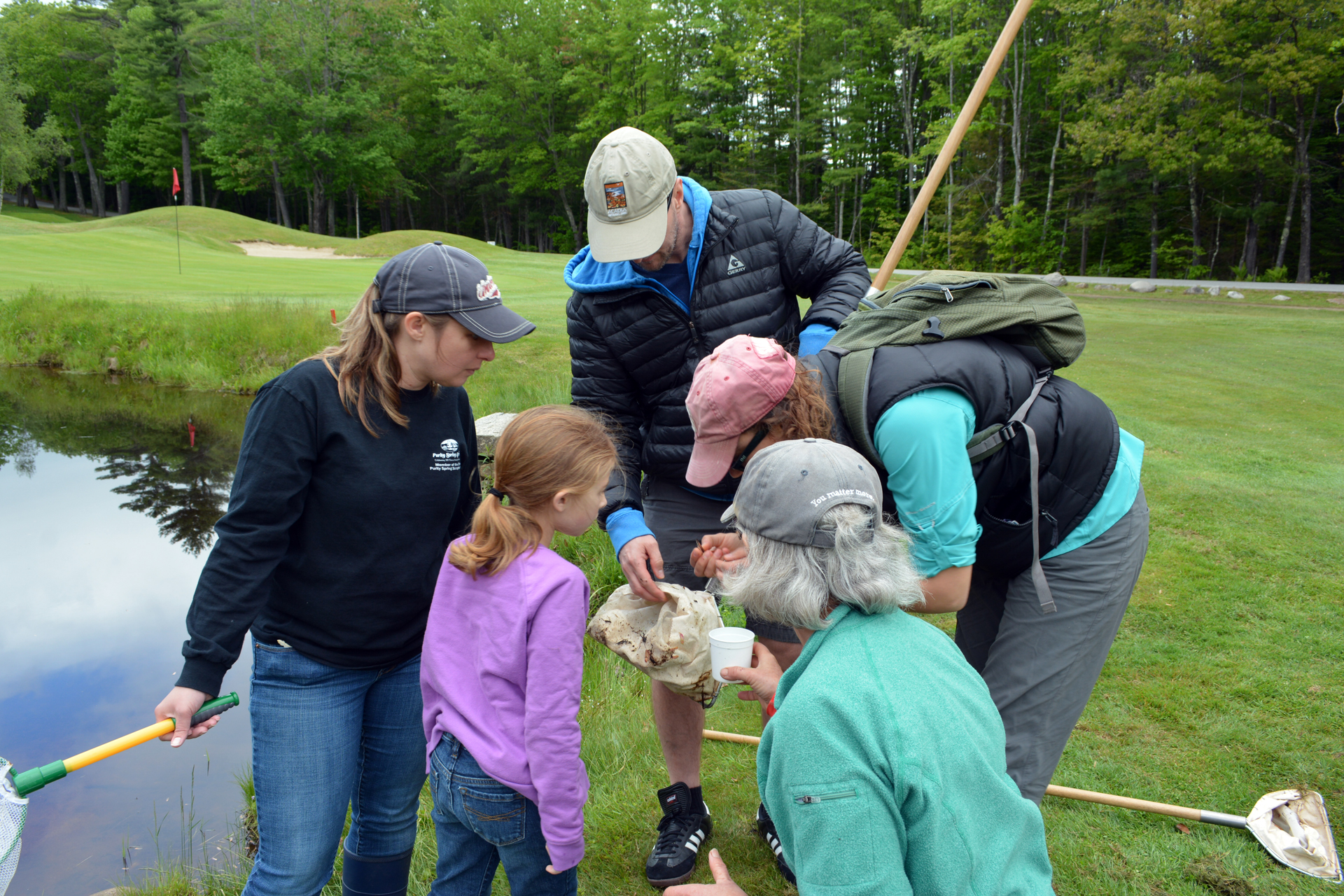 The Wakefield Paul School and the Acton Elementary 6th graders kicked off the BioBlitz by collecting and identifying dozens of aquatic macroinvertebrates found in the golf course streams. These aquatic bugs included dragonfly nymphs, beetles, crayfish, stoneflies, and many other critters. Students also performed water quality tests, and assessed stream health by determining what species were present.
On June 3rd the BioBlitz was open to the public. We had volunteer naturalists, experts, Province Lake residents, and golfers. Over the course of the day we were able to find hundreds of species! We are currently still sorting through data and are continuing to work on identifying species.
Here are just a few of the hundreds of species we found:
White Meadowsweet
Eastern Hemlock
Balsam Fir
Partridgeberry
Silver Maple
Norway Maple
Black Chokeberry
Mushrooms (many species!)
Spiderworts
Eastern Tent Caterpillar Moth
Indigo Bunting
Empid Flycatchers
American Bullfrog
Dragonflies
Eastern Red-backed Salamander
Eastern Painted Turtle
Predacious Diving Beetle
Cedar Waxwing
Blue Jay
Eastern Kingbird
Ruby-throated Hummingbird
Bald Eagle
Indigo Bunting
American Goldfinch
Eastern Bluebird
Black-capped Chickadee
Thank you to everyone who participated and made this BioBlitz a success. Check out some more photos from the event below!